Winelivery è il servizio che consegna in 30 minuti vino e alcolici alla giusta temperatura. Apre ora il suo "A Series" con l'obiettivo di una diffusione capillare in Italia e la prima apertura all'estero
Raised

€ 1.214.373

For 14,4% equity
Valuation

€ 7.200.000

Premoney
Quota type

A (€ 40.000), B
Modello scalabile
Mercato e-commerce in crescita
Consegna a domicilio in tempi brevi
Base clienti solida
Description
Winelivery è un e-commerce specializzato in vino e alcolici, con consegna gratuita in 30 minuti.
Grazie al duro lavoro del team e alle due precedenti campagne di investimento completate entrambe in overfunding attraverso CrowdFundMe, oggi è un player consolidato del mercato online del vino e degli alcolici in Italia.
L'enoteca "su due ruote" va sempre più veloce e le strade da percorrere si moltiplicano!  Dopo aver raggiunto il break-even su Milano ed aver lanciato con successo le piazze di Bologna, Torino, Firenze e Bergamo è oggi pronta a scalare ulteriormente il business con l'obiettivo di una diffusione capillare in Italia e di muovere i primi passi nei mercati esteri.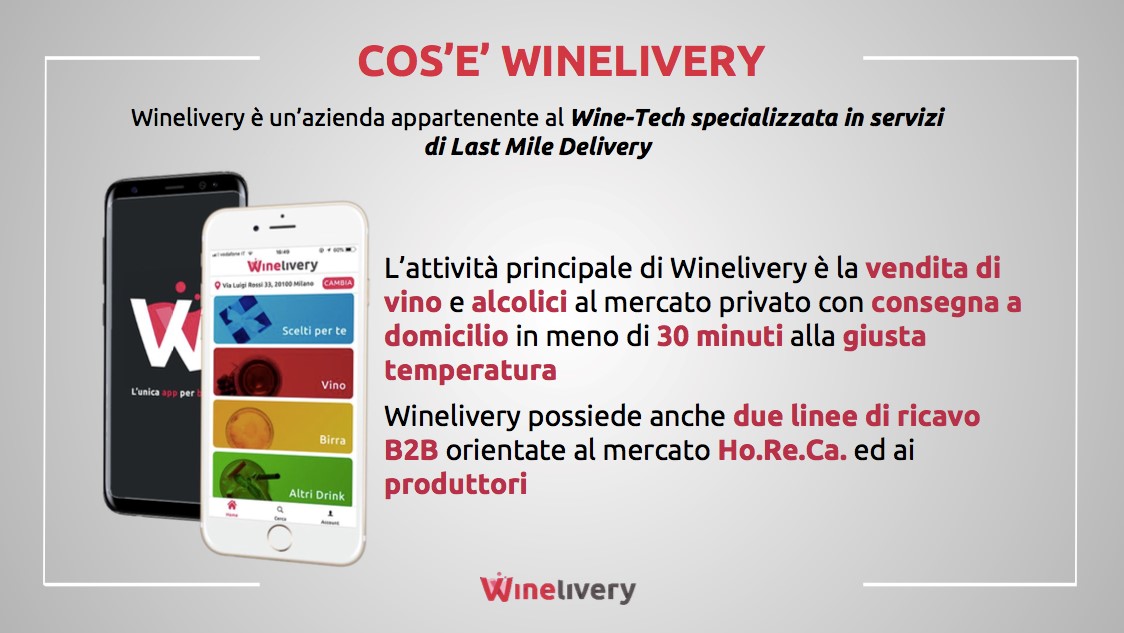 Attraverso le app (iOS e Android) e il sito è possibile scegliere tra più di 1200 etichette e i prodotti arrivano a casa del cliente, alla giusta temperatura di servizio, tutti i giorni dalle 10 di mattina all'una di notte (addirittura le 2, durante il weekend).
Siamo sicuri che anche a voi è capitato di voler bere qualcosa di buono a casa, ma di doverci rinunciare perché non c'era nulla in frigo/cantina e l'enoteca sotto casa era già chiusa o volevi evitare di scendere.
Lanciato a Milano nel Gennaio 2016, in meno di tre anni il servizio è cresciuto in modo esponenziale. Oggi è attivo anche a Bologna, Torino, Bergamo e Firenze. A gennaio 2018 è stata presentata una nuova divisione Horeca, destinata a clienti professionali. Nei primi 10 mesi del 2018 Winelivery ha consegnato circa 85mila bottiglie.
"Il valore aggiunto di winelivery.com – dice Francesco Magro, founder & CEO di Winelivery – è la sua peculiare modalità di distribuzione dei prodotti, che include consegna veloce ed a temperatura, accompagnata da un competente servizio di assistenza online.  Offriamo oggi oltre migliaia di referenze tra vini, birre, liquori, distillati e cocktail-kit, che vengono consegnati in meno di 30 minuti, a temperatura di degustazione e nel caso dei cocktail, con l'inserimento di ghiaccio, cannucce e bicchieri all'interno del kit."
Il team di Winelivery ha risposto alle domande di investitori e interessati sulla community Telegram di CrowdFundMe: clicca e leggi il riepilogo!
Why invest
Winelivery è uno dei rari casi di Scale-Up Made in Italy e ha dimostrato di saper sfruttare in maniera estremamente efficiente i capitali raccolti fino ad oggi: la sua crescita media mensile di oltre il 20% da più di due anni ne è la dimostrazione più concreta.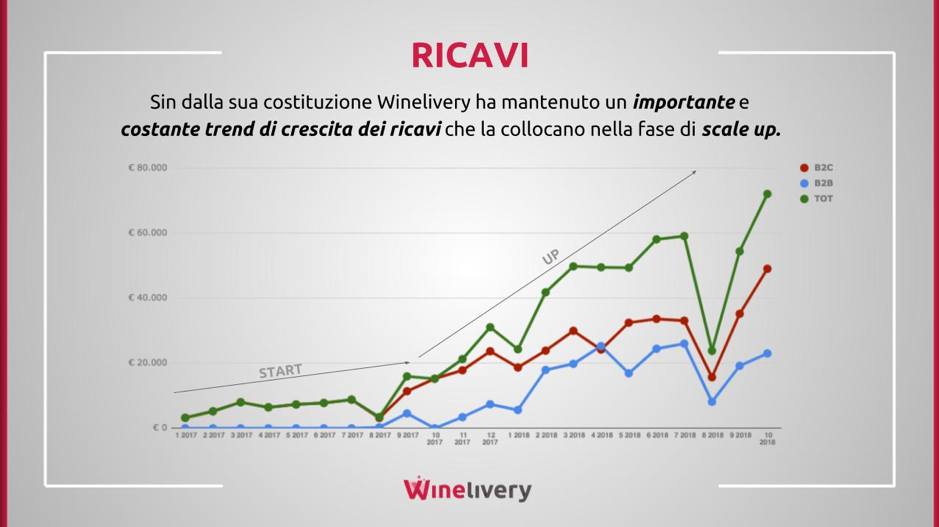 Ad ogni iniezione di capitale Winelivery ha accelerato la propria crescita: i ricavi dell'ultimo anno pari a 4 volte quelli dell'anno precedente. E novembre 2018, seppure non ancora concluso, ha portato il nuovo record di fatturato.
Il valore di Winelivery e della sua customer base è riconosciuta da grandi brand del settore beverage (Campari, Sanpellegino), che la hanno scelta per collaborazioni di grande successo. In seguito, la società ha ottenuto la fiducia anche degli investitori istituzionali, come Fabio Nalucci di Gellify, che hanno partecipato all'attuale round A.
"Abbiamo analizzato a fondo il business di Winelivery e riteniamo che l'ambizioso piano di espansione relativo all'attuale round di finanziamento, che prevede il lancio del servizio in 25 nuove città, l'intensificazione dell'attività B2B e i primi passi all'estero, ponga le basi per una evoluzione della società da startup a scale-up. Se il piano fosse rispettato, sarebbe alta la possibilità, nei prossimi due anni, di monetizzare l'investimento per mezzo di  una exit industriale o quotazione"
Fabio Nalucci, CEO & Founder GELLIFY, Private Investor
Results achieved
Aggiornamento 19 Dicembre 2018: il team di Winelivery ha condiviso i risultati di business del 2018 (ancora parziali, in quanto aggiornati al 16/12).
Bottiglie consegnate: +350% rispetto al 2017
Download app: +300% rispetto al 2017
Utenti registrati: +250% rispetto al 2017
Aggiornamento 27 Novembre 2018: il team di Winelivery ha condiviso un aggiornamento sulla performance della società. Clicca qui per leggere il documento.
Nel 2018 Winelivery è riuscita a consegnare più di 70.000 bottiglie e vanta più di 30mila download dell'app tra iOS e Android, e si trova ora in una fase di scale up, con tassi di crescita mensile (mese/mese) costantemente superiori al 20%.
Oltre ad una continua crescita, Winelivery conta ulteriori risultati che dimostrano la sua crescente rilevanza nel panorama nazionale:
seed Rounds: 550k da 309 investitori privati su Crowdfundme.it;
creazione di una App in Co-Branding con un colosso nel settore beverage (Click2Ape.it);
partnership attive con Signorvino, SanPellegrino;
modello in Franchising validato e già attivo;
due canali di revenue B2B (HoReCa e DMC);
50+ Cantine Partner;
130+ uscite stampa nazionali ed internazionali.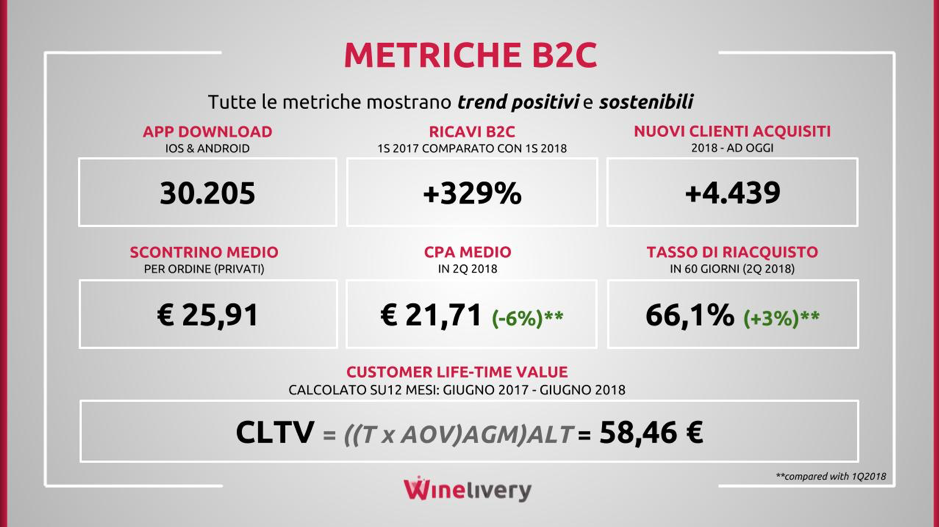 Use of proceeds
Il Round di investimento ha l'obiettivo di finanziare la crescita di Winelivery su tutte le aree di business e portare il Brand Winelivery ad essere il leader nel mercato del vino e alcolici online nel 2020.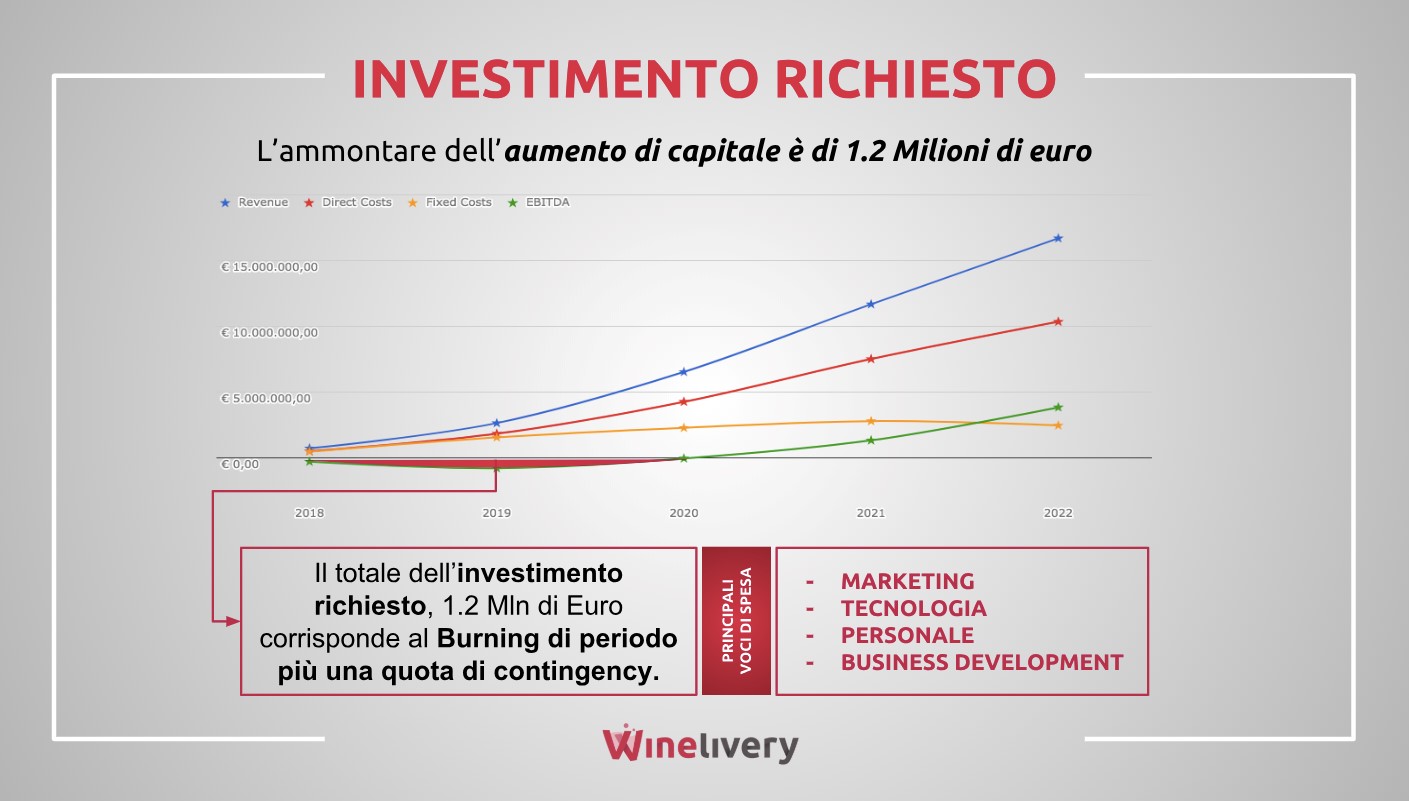 Detto che il capitale raccolto sarà utile a finanziare tutte le attività che consentiranno di eseguire il piano strategico 2020 di Winelivery, i principali investimenti saranno riferiti a:
consolidamento del Core Business nelle città Flagship: Investimenti in Marketing volti al raggiungimento del pieno potenziale di sviluppo delle città operative, Milano, Bologna,Torino e Firenze;
sviluppo del Core Business in nuove grandi città: Roma e Monaco di Baviera.
sviluppo del Mercato B2B: Industrializzazione del progetto Winelivery HoReCa su tutte le città in cui il B2C è operativo.
lancio e promozione dei punti in franchising: previste 25 aperture entro il 2020.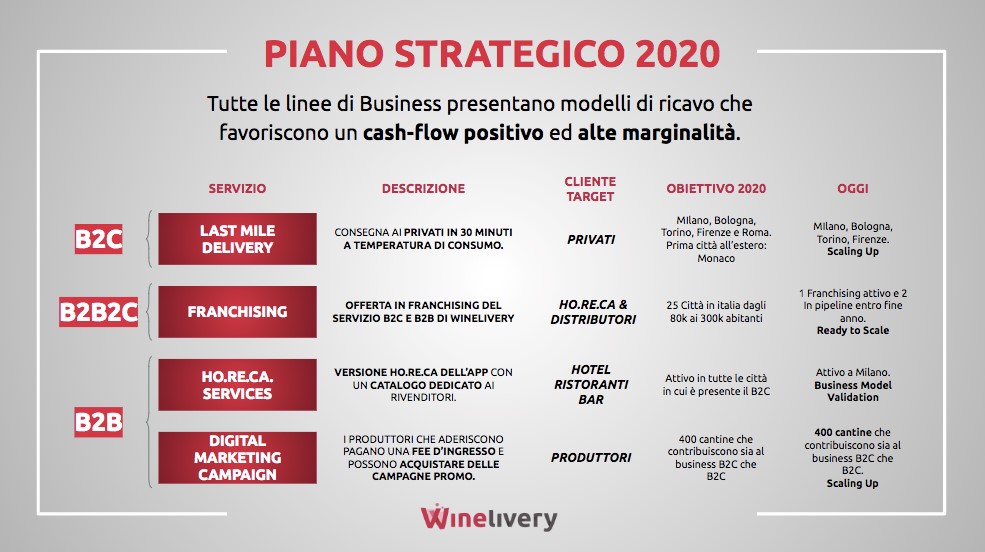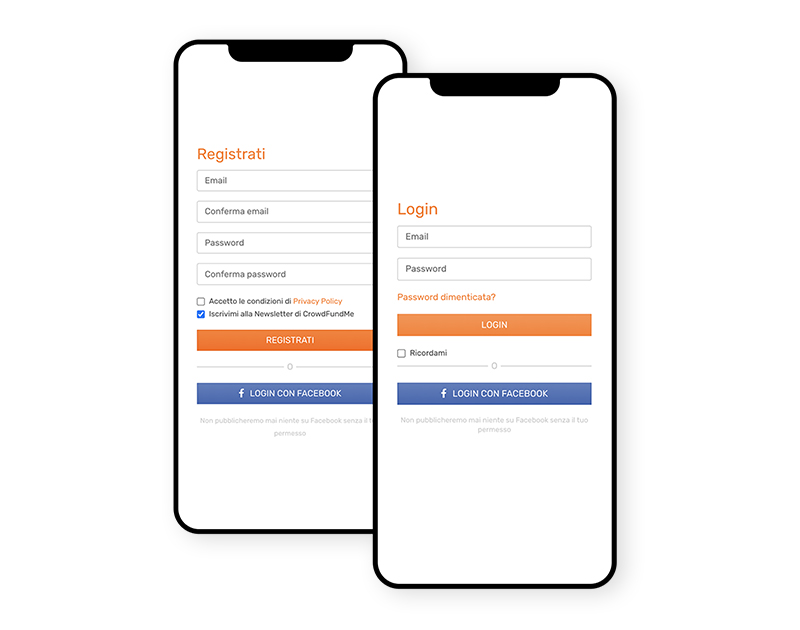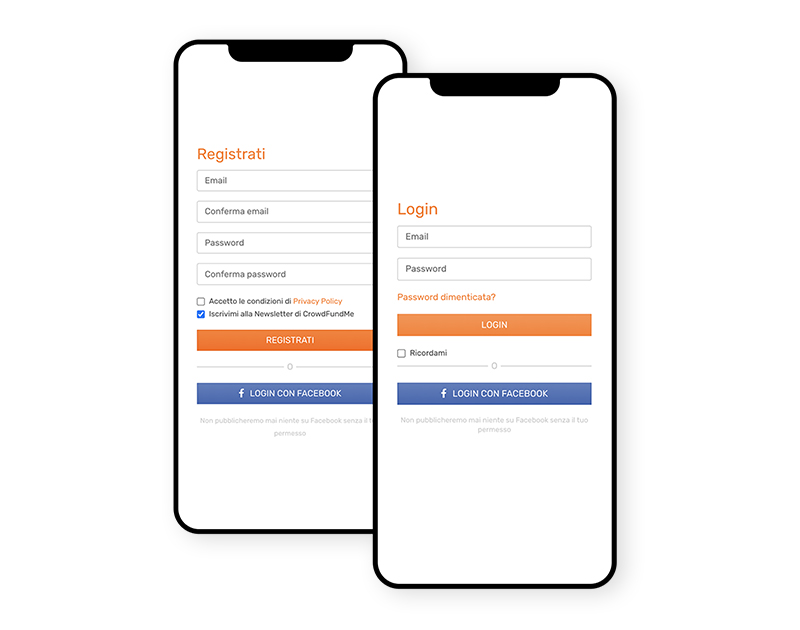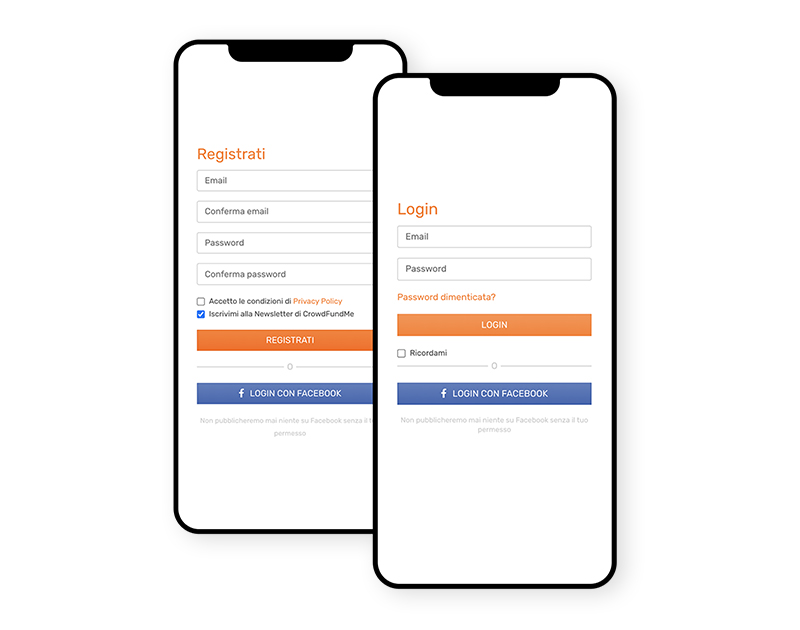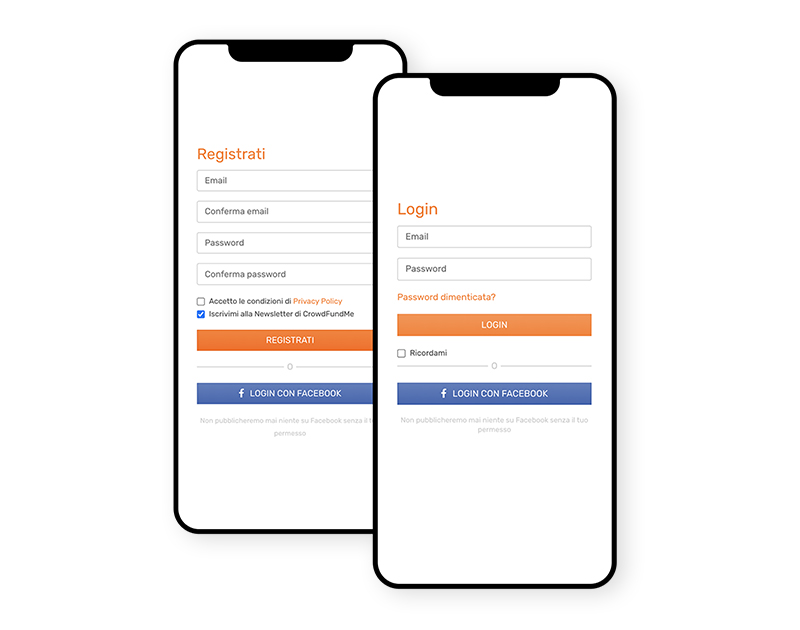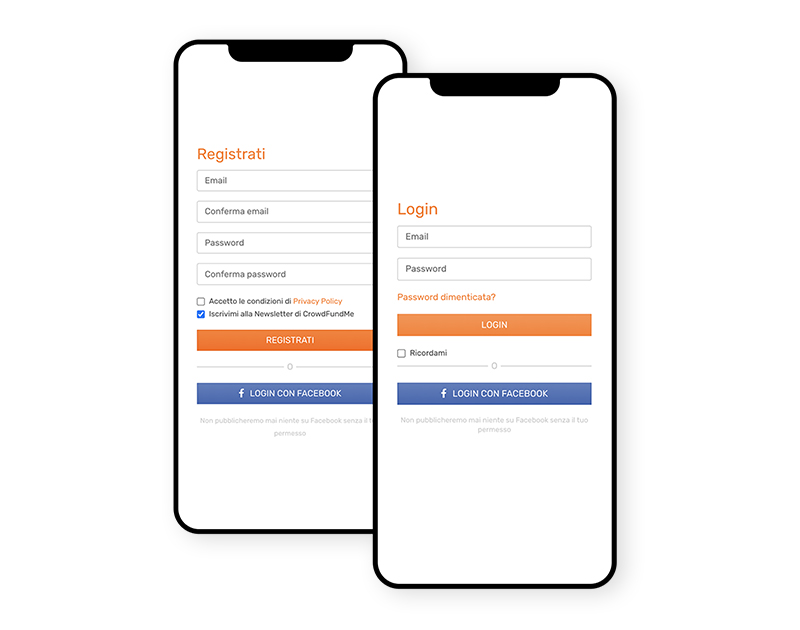 ;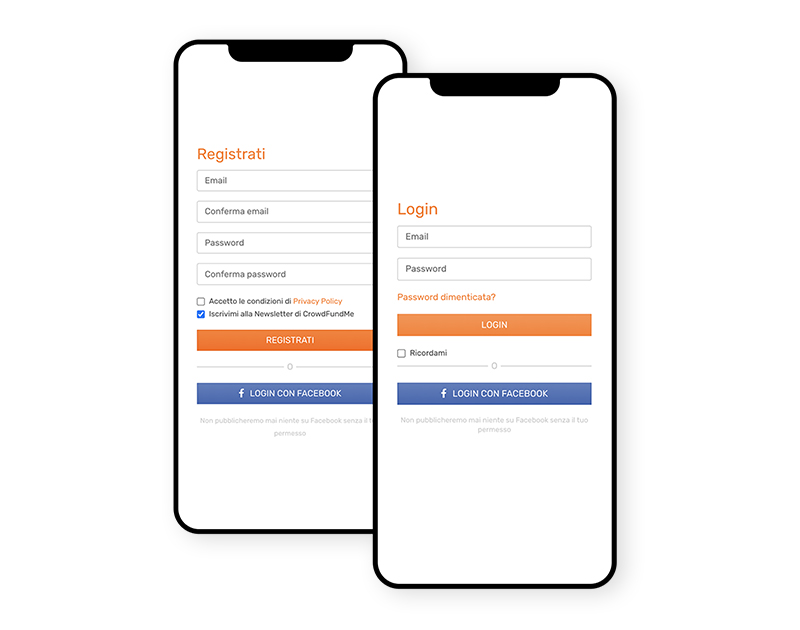 The information on the offer is not subject to approval by Consob. The bidder is solely responsible for the completeness and truthfulness of the data and information provided by the same. The investor\'s attention is also drawn to the fact that the investment, including through OICR or companies that mainly invest in financial instruments issued by small and medium-sized companies, is illiquid and characterized by a very high risk.
Invest with CrowdFundMe
The crowdinvesting platform to build your diversified portfolio
Select
a project
Invest online
in a few clicks
Take part in the success of the companies in your portfolio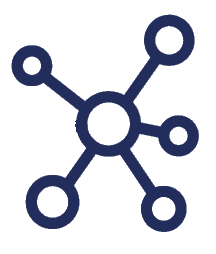 Select
a project
Invest online
in a few clicks
Take part in the success of the companies in your portfolio