Startup innovativa che ha sviluppato una tecnologia, per preparare piatti italiani espressi, finalizzata alla creazione di una catena di ristoranti automatizzati
Raised

€ 93.500

For 8,6% equity
Valuation

€ 1.000.000

Premoney
Quota type

A (€ 50.000), B
Processo innovativo in fase di brevettazione per la conservazione e rigenerazione di cibi italiani di elevata qualità
Modello retail scalabile e innovativo con la possibilità di avere ristoranti senza chef
Test di prodotto con esito positivo in diverse nazioni estere
Realistiche possibilità di exit future a livello internazionale
Description
MichelChef Srl è una startup innovativa che ha sviluppato una processo innovativo di conservazione e rigenerazione dei piatti italiani gourmet, volto a realizzare una catena di ristoranti automatizzati senza chef. Il sistema tecnologico, alla base del progetto, permette la preparazione di monoporzioni, poi conservate sottovuoto, mantenendo inalterate le proprietà organolettiche degli alimenti. Questo processo permette di offrire  ricette di qualità pronte in poco tempo e senza la necessità di cuochi professionisti. Su tale innovazione, la società ha depositato una richiesta di brevetto per modello di utilità.
Il progetto di sviluppo di MichelChef è costituito da un format di ristorazione che non presenta variabili di servizio, processo e prodotto, favorendo una sua evoluzione e scalabilità a livello internazionale, attraverso la realizzazione di ristoranti di proprietà e in franchising, e la crescita della parte e-commerce (già attiva).
Why invest
Scalabilità – Il format ideato dalla società, che minimizza le variabili e gli sprechi, è scalabile e presenta dei vantaggi sia sotto il profilo professionale (non si necessita di operatori specializzati) che imprenditoriale (permette un controllo rigoroso dei costi). L'obiettivo è l'apertura in 5 anni di 30 ristoranti. I punti di forza del modello sono i seguenti:
Non serve una canna fumaria;
Nessun anticipo, si noleggia tutto il necessario;
Grazie al procedimento standard, non serve essere chef;
La qualità e le proprietà dei cibi rimangono inalterati in tutto il mondo;
Gli spazi sono pensati per essere modulari.
Internazionalizzazione – la società ha condotto dei test di prodotto con esito positivo in diversi Paesi ed è attualmente in trattativa per espandersi in quattro nazioni oltre all'Italia:
Stati Uniti (Miami);
Germania (Berlino);
Belgio (Bruxelles);
Slovacchia (Bratislava).
Previsioni di crescita e future exit – la società prevede, in base al business plan e alle assunzioni alla base, una significativa crescita business nel medio lungo termine con un obiettivo da qui a tre anni di ottenere un fatturato maggiore di 5,5 milioni di euro e un utile pari a circa il 23%. Dati questi presupposti la società ha già in mente un percorso di crescita con potenziali future exit da ricondursi a M&A o in alternativa quotazione in borsa in un paese estero: a tal proposito dopo un primo sondaggio con un advisor australiano la società ha ottenuto un primo giudizio positivo per la quotazione presso ASX Sidney, mercato dei capitali australiani.
Results achieved
Il principale risultato raggiunto in questa fase del progetto consiste nell'aver depositato domanda di brevetto relativa all'innovativo processo rigenerativo alimentare applicato per la conservazione dei cibi che permette di preservarne qualità e bontà in qualsiasi posto essi vengano preparati e serviti. Tra gli altri risultati, si ricorda che la società, in preparazione dell'apertura del primo ristorante senza chef, ha già partecipato attivamente all'apertura di alcuni punti vendita, dai quali si posso acquistare i prodotti preparati e conservati con il processo in fase di brevettazione:
Rovigo: un punto vendita diretto insieme alla sede del laboratorio;
Ferrara: un punto vendita diretto e 5 corner shop.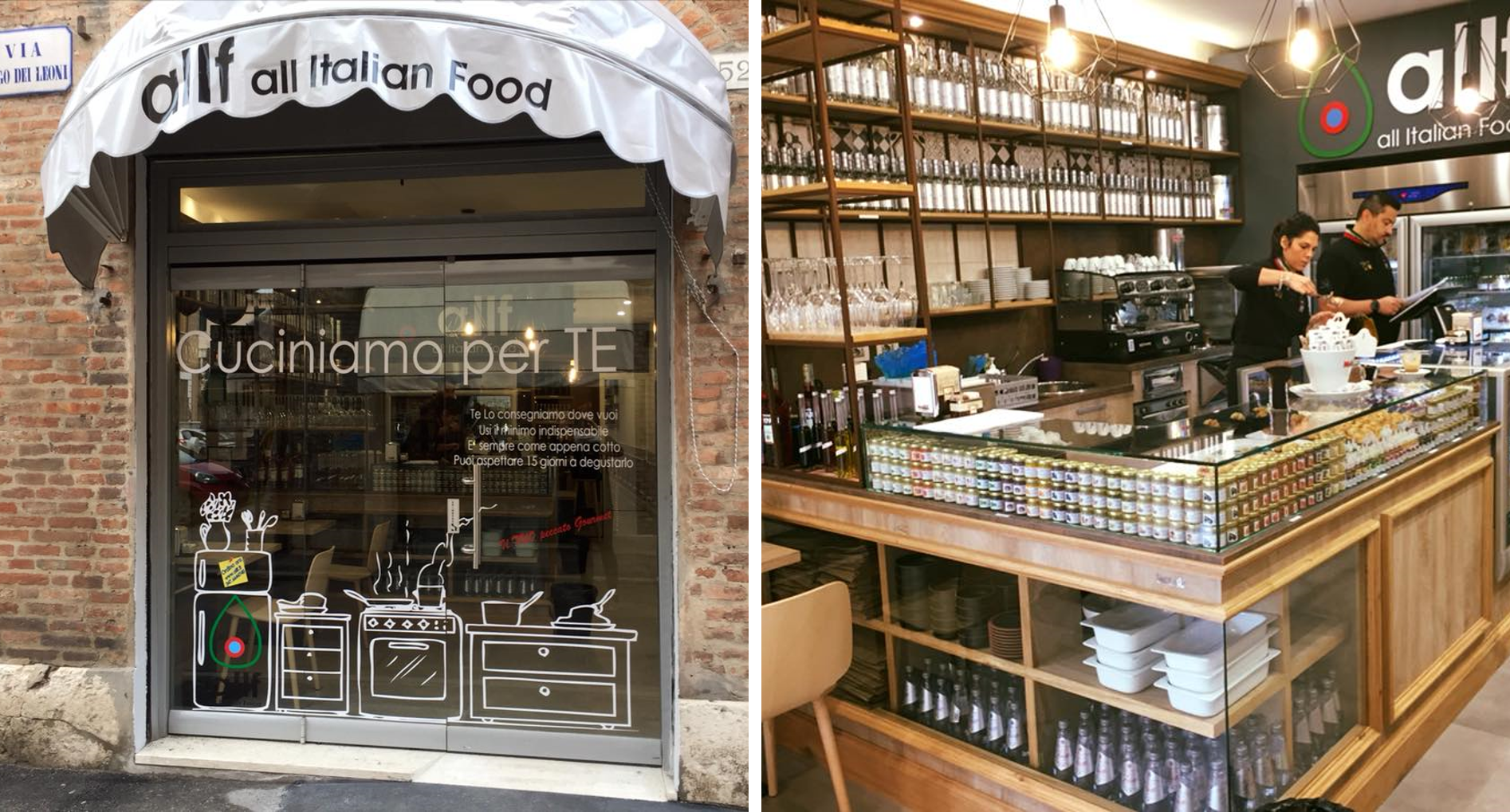 Use of proceeds
Attraverso questa raccolta di equity crowdfunding la società intende velocizzare la realizzazione del primo ristorante automatizzato senza chef a marchio Allf, a Ferrara, e potenziare il servizio già attivo di e-commerce.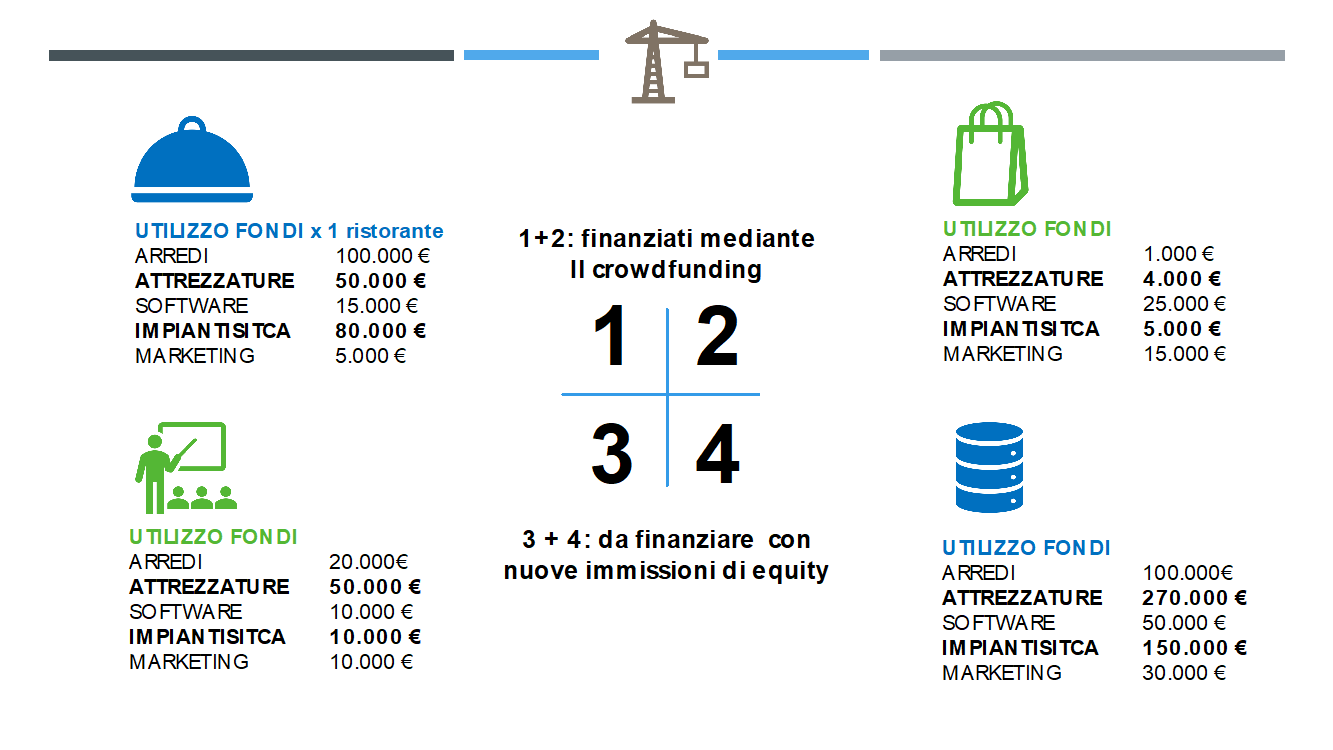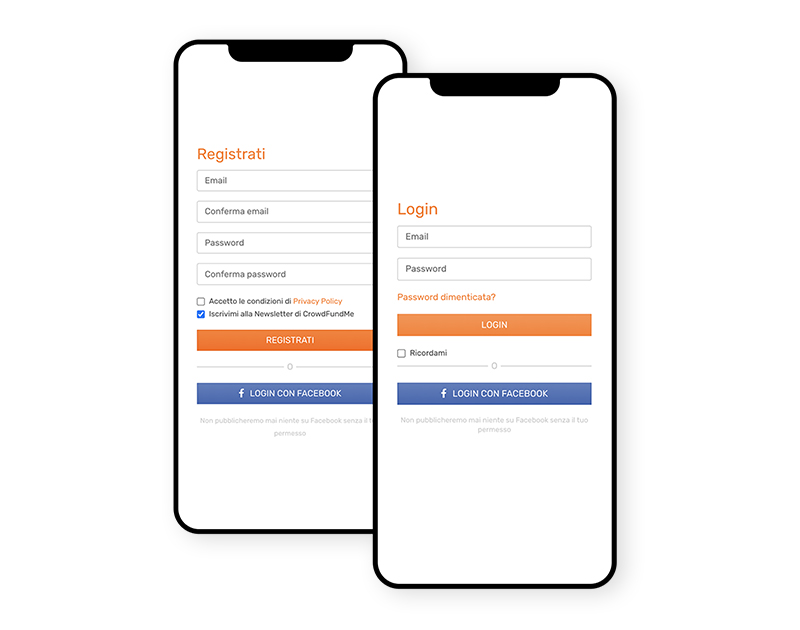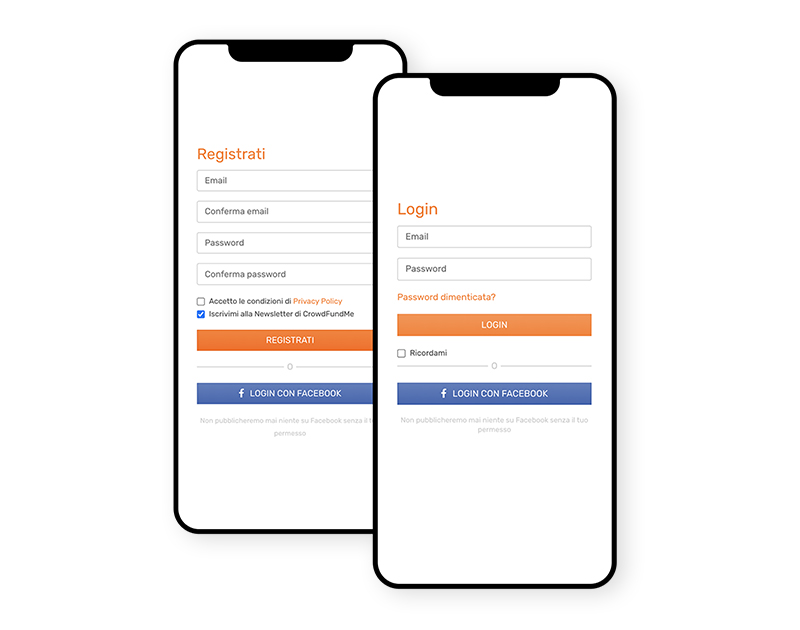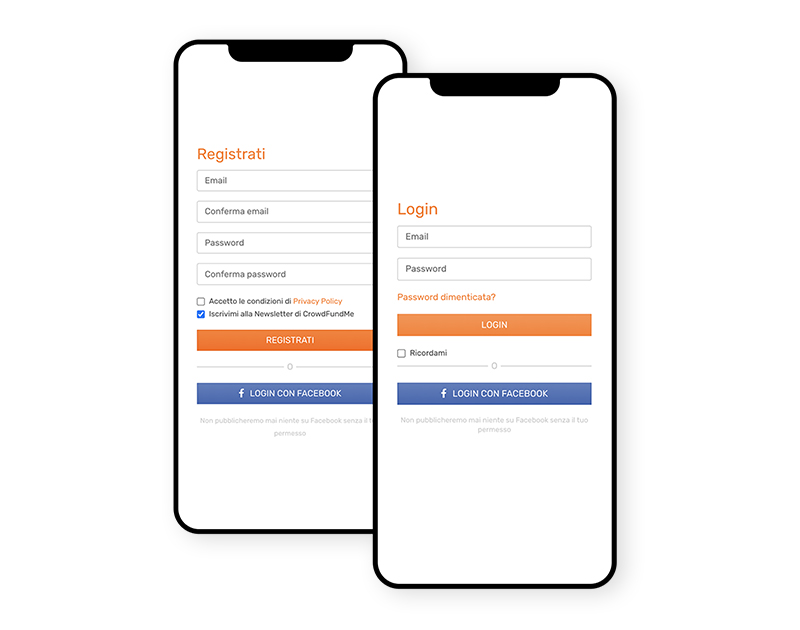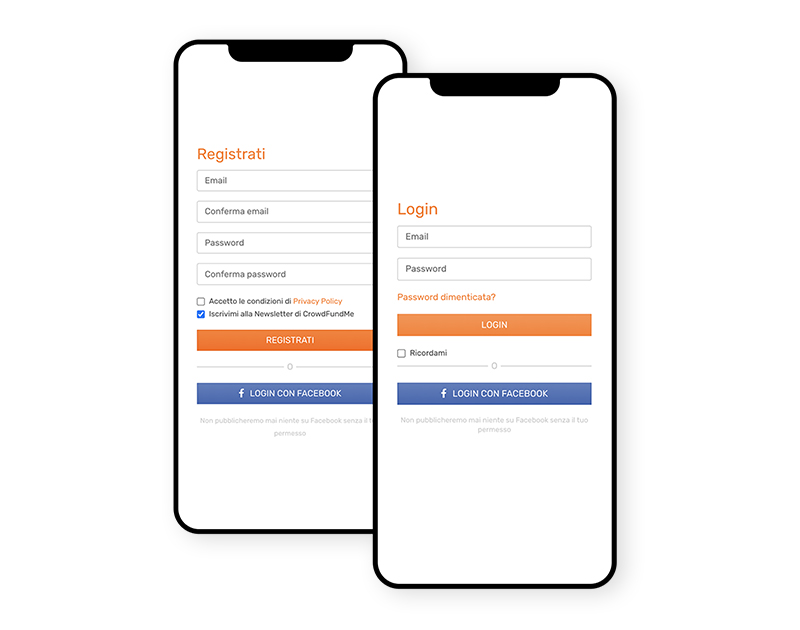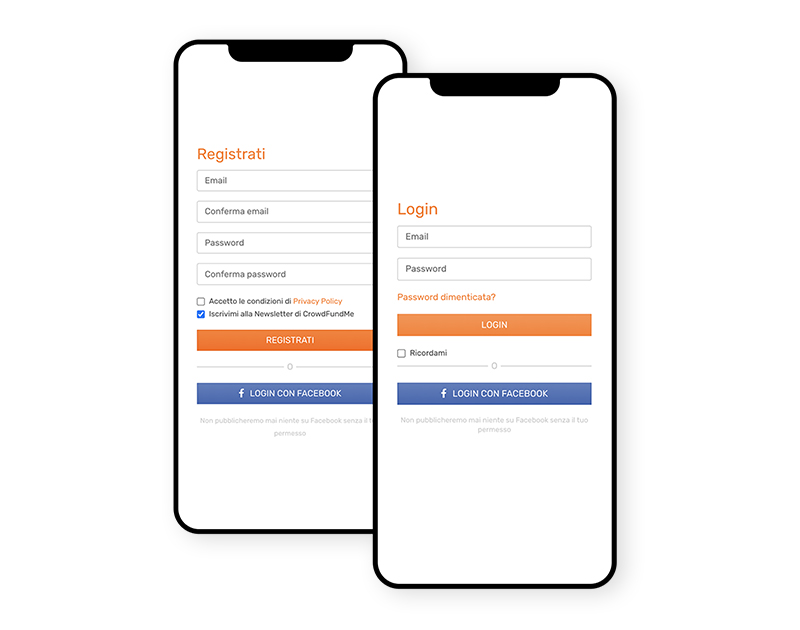 ;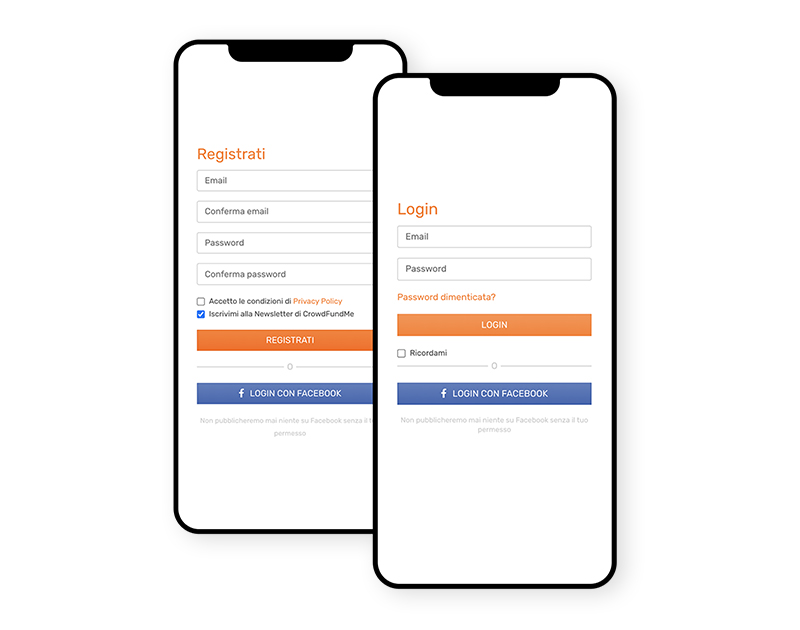 The information on the offer is not subject to approval by Consob. The bidder is solely responsible for the completeness and truthfulness of the data and information provided by the same. The investor\'s attention is also drawn to the fact that the investment, including through OICR or companies that mainly invest in financial instruments issued by small and medium-sized companies, is illiquid and characterized by a very high risk.
Invest with CrowdFundMe
The crowdinvesting platform to build your diversified portfolio
Select
a project
Invest online
in a few clicks
Take part in the success of the companies in your portfolio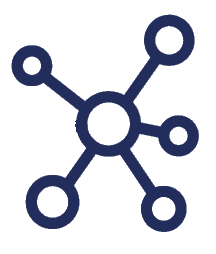 Select
a project
Invest online
in a few clicks
Take part in the success of the companies in your portfolio