PMI Innovativa e Holding Industriale focalizzata negli investimenti in società attive nel settore BioHighTech situate a Trieste. Nel 2019 i ricavi aggregati delle partecipate si attestano intorno ai 11 milioni di euro, +20% su base annua
Raised

€ 1.655.000

For 14,2% equity
Valuation

€ 10.000.000

Premoney
Quota type

A (€ 250.000), B
Description
[Clicca qui per rivedere il Webinar di Biovalley Investments Partner]
[La campagna chiuderà in via improrogabile il 31/01, questo per permettere l'eventuale conclusione di un seconda trattativa importante in essere]
Biovalley Investments Partner (BIP in breve) nasce nel 2016 per operare come:
Holding industriale, specializzata negli investimenti in società innovative nei mercati BioHighTech (BioMed, Biotech, BioICT) delle scienze della vita e mediche situate nel nord-est Italia.
PMI innovativa con competenze in progetti di ricerca e sviluppo in ambito BioHighTech
Società farmaceutica per la distribuzione di farmaci orfani, divisione nata recentemente (2019)
Nel corso del 2019, BIP ha completato la prima fase di raccolta, portando il capitale sociale a 6,6 milioni di Euro interamente sottoscritti al valore nominale.
Ad oggi la società ha investito in 11 società per un importo complessivo pari a 3,87 milioni di Euro.
La mission è quella di accelerare la crescita delle PMI o startup innovative consolidate e/o partecipate, con ulteriori investimenti e con una gestione integrata dell'ecosistema.
Why invest
Esperienza del team – BIP nasce dalle competenze dell'ing. Diego Bravar, imprenditore che ha seguito la quotazione sull'AIM di TBS Group, azienda da lui fondata operante nel settore delle scienze della vita, per poi ricevere un'OPA per 100 milioni di euro e dell'amministratore delegato Giovanni Loser, da 25 anni in posizioni apicali di aziende italiane con competenze di finanza aziendale e da 5 anni coinvolto in innovazione.
Network consolidato – Un sistema che conta 150 imprese attive nei settori del biomedicale, biotecnologico e bioinformatico, con un fatturato complessivo di oltre 800 milioni di euro e con più di 5.000 addetti.
Benefici fiscali – La società risulta iscritta nella sezione speciale delle PMI Innovative. L'investitore che supporta la campagna di crowdfunding di Biovalley potrà godere degli sgravi fiscali previsti per le PMI innovative.
Metodo di valutazione – Poichè BIP investe in aziende che hanno dimensioni e grado di innovazione diverso ed a questo aggiunge attività proprie, il metodo di valutazione utilizzato è misto e porta a una valutazione prudente, che riflette un potenziale di investimento ancora maggiore. Di seguito il metodo di valutazione:
per le società controllate e partecipate che oggi sono le società di riferimento consolidate o da consolidare per le 3 divisioni, la metodologia di valutazione è quella di mercato: è stato utilizzato un moltiplicatore 10x sull'EBITDA;
per le attività industriali della Società legate alla distribuzione di farmaci orfani è stato utilizzato il metodo DCF, in quanto queste attività sono state avviate a maggio 2019;
per gli investimenti in startup e/o per i prestiti remunerati al 3% alle aziende è stato utilizzato, prudenzialmente, il valore riportato a libro;
è stato aggiunto l'importo di cassa della Società.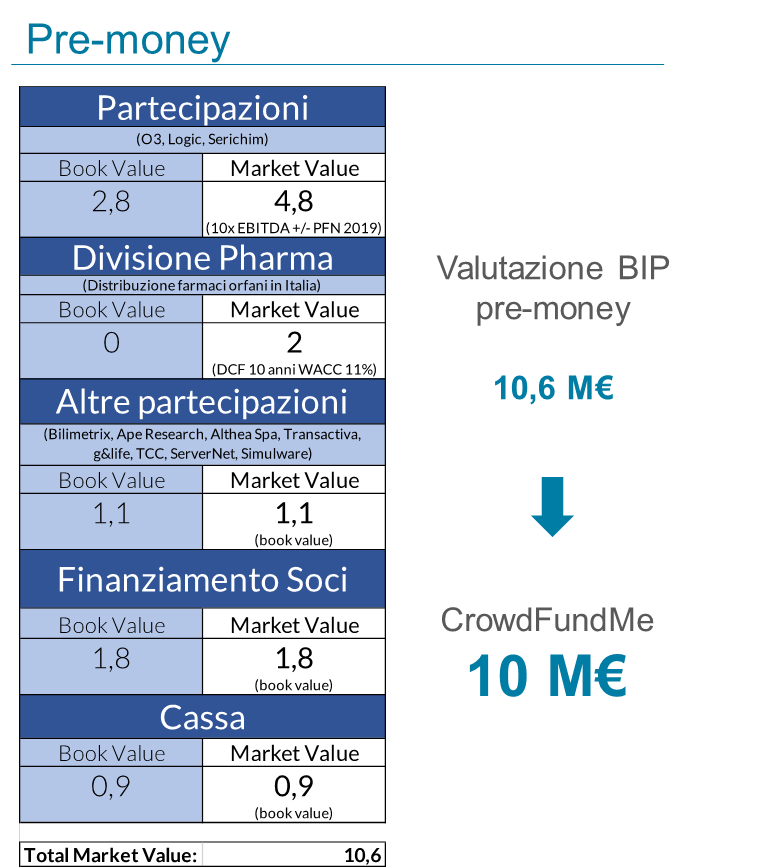 Results achieved
Nei 18 mesi dalla sua creazione BIP ha costruito relazioni con centri di ricerca, istituti di biotecnologia, ospedali in cui si fa ricerca scientifica, Università e Scuole di Studi Avanzati in modo da rafforzare il network di innovazione e ricerca. E' stato fatto scouting, valutando più di 50 aziende e startup innovative con le metodologie della Silicon Valley.
Nel 2019 Biovalley Investments Partner ha investito in quote di maggioranza in 2 società (Logic e Serichim), in minoranza in 1 società (O3) e ha avviato l'attività di distribuzione dei farmaci orfani in Italia investendo nella rete commerciale propria.
I risultati economici aggregati delle 11 aziende partecipate si attestano intorno agli 11 milioni di euro con una crescita stimata superiore al 20% rispetto all'anno precedente.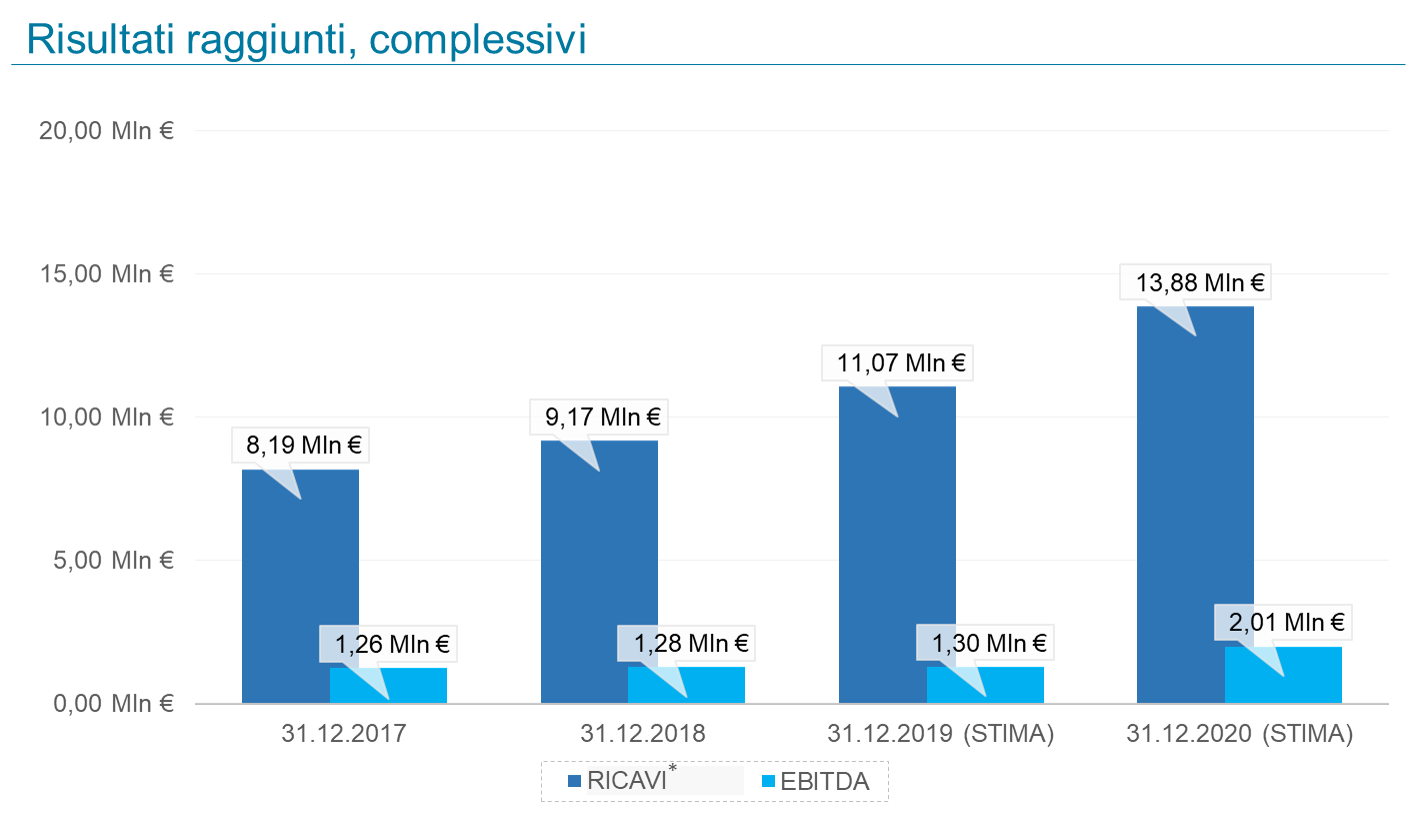 Use of proceeds
L'aumento di capitale deliberato dall'assemblea dei soci sarà utilizzato per proseguire il processo di creazione del valore delle società controllate e/o partecipate dalla Holding industriale e/o dei futuri investimenti che verranno effettuati in società operanti dell'industria BioHighTech.
In particolare il capitale raccolto verrà investito in società con diverse fasi di sviluppo, anche consolidando gli attuali investimenti: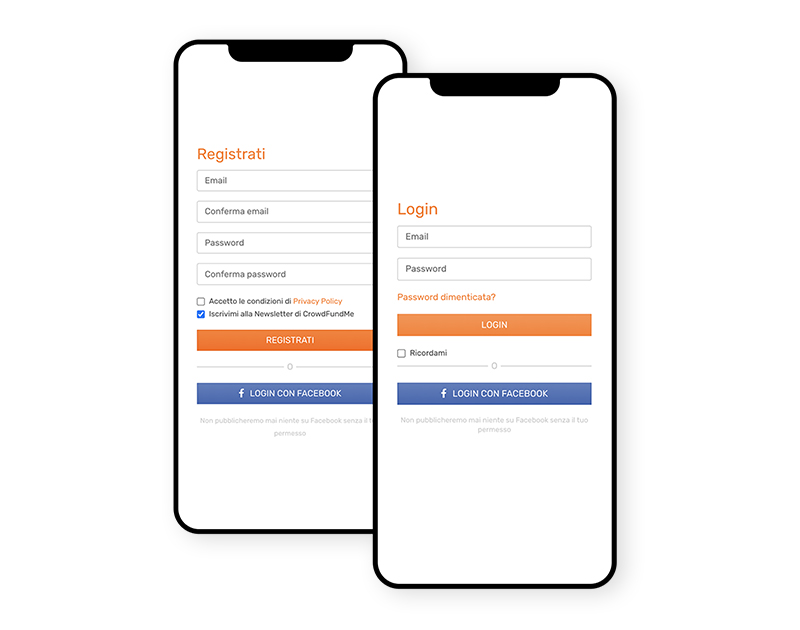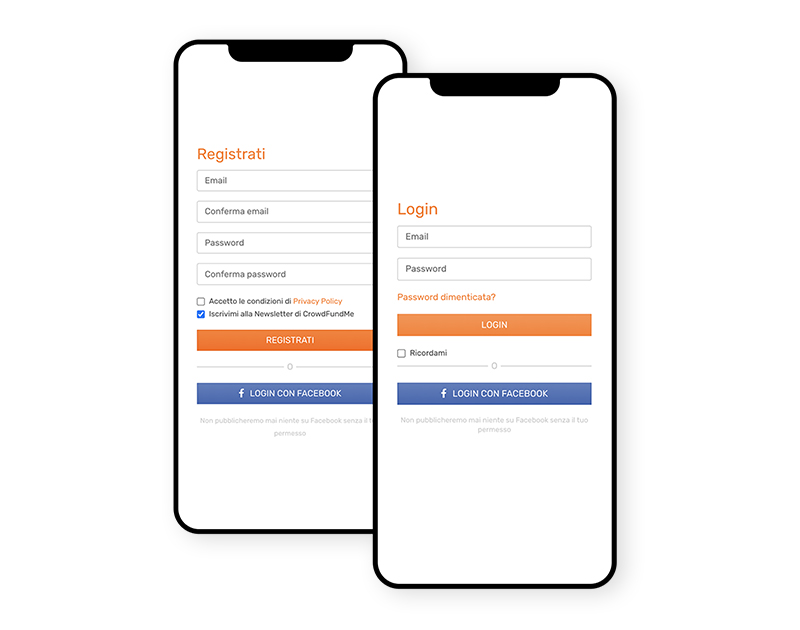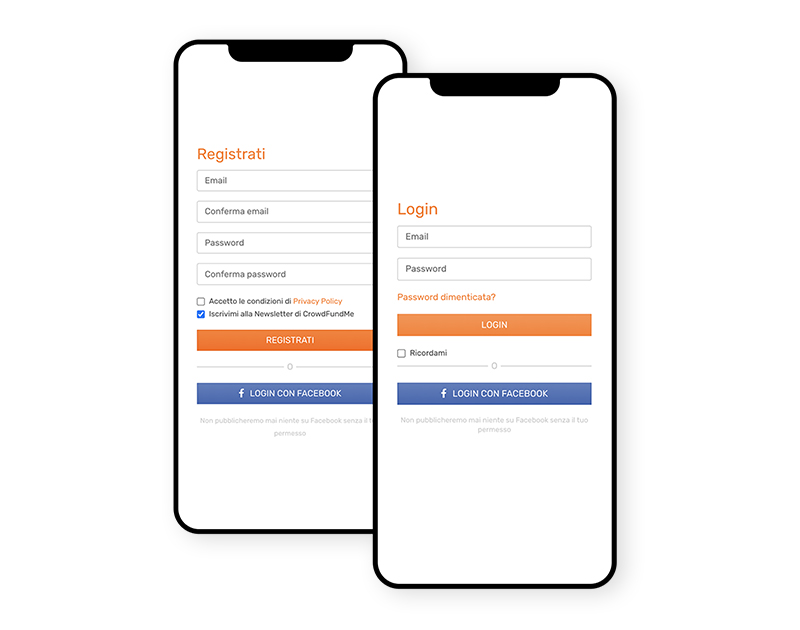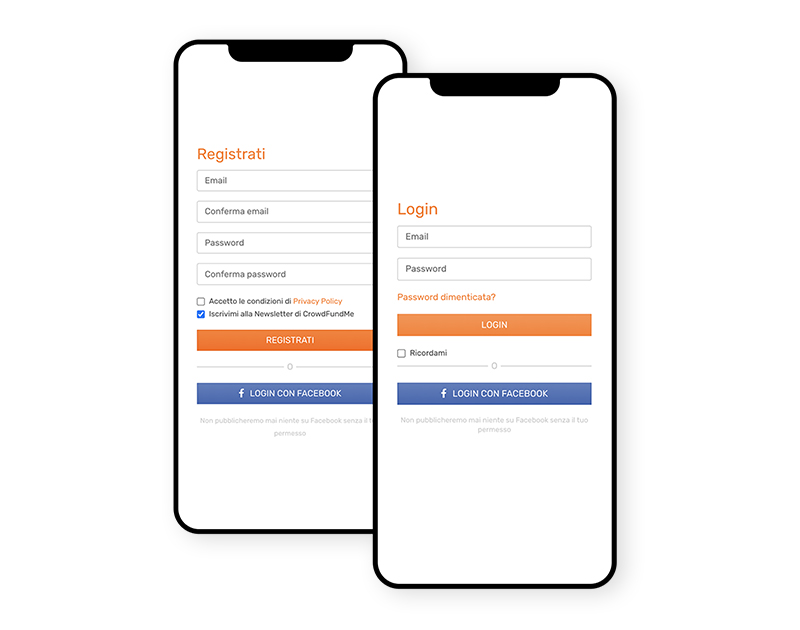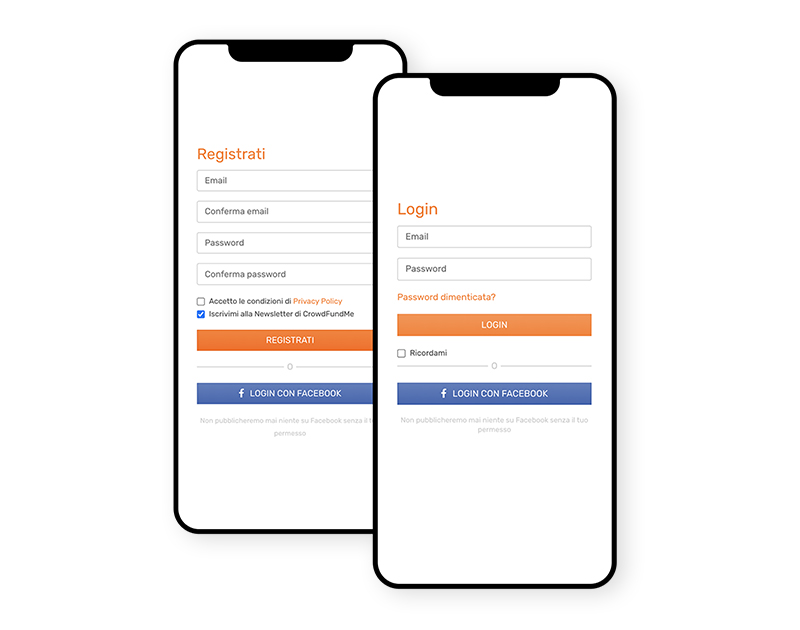 ;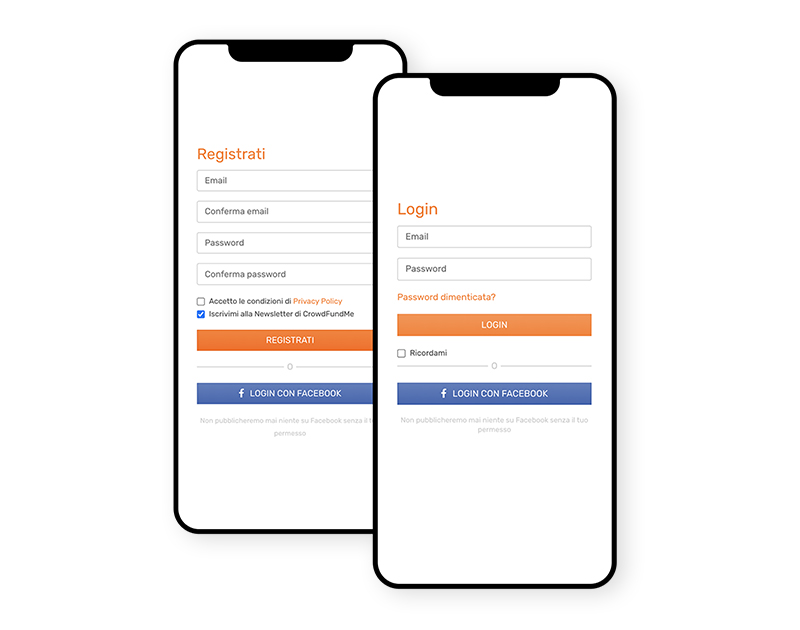 The information on the offer is not subject to approval by Consob. The bidder is solely responsible for the completeness and truthfulness of the data and information provided by the same. The investor\'s attention is also drawn to the fact that the investment, including through OICR or companies that mainly invest in financial instruments issued by small and medium-sized companies, is illiquid and characterized by a very high risk.
Invest with CrowdFundMe
The crowdinvesting platform to build your diversified portfolio
Select
a project
Invest online
in a few clicks
Take part in the success of the companies in your portfolio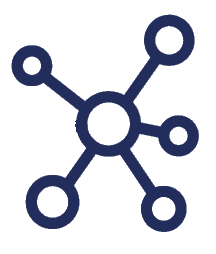 Select
a project
Invest online
in a few clicks
Take part in the success of the companies in your portfolio